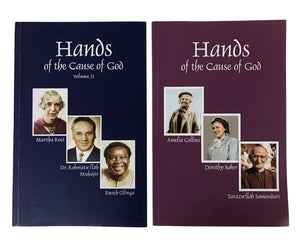 $14 for Volumes I and II

The Hands of the Cause of God had a very special role in history: their lives were completely focused on spreading the Bahá'í Faith and protecting it from disunity and division. These devoted souls faithfully served 'Abdu'l-Bahá and Shoghi Effendi, and prepared the Bahá'ís to elect the Universal House of Justice in 1963.

Volume I tells the stories of three of those beloved souls: Amelia Collins, Dorothy Baker and Tarazu'llah Samandari.  Volume II tells the stories of three more wonderful souls: Martha Root, Dr. Rahmatu'lláh Muhájir and Enoch Olinga.
*Volume III is now available on my shop and tells the stories of three beloved Hands of the Cause: Louis Gregory, Corinne True and Abul-Qásim Faizi.

These books include beautiful professionally colored original photographs.

Written by: Vered Ehsani, Tarrant Mahony & Elika Mahony
Please allow 7-10 days for shipping within the US and 3-4 weeks for international shipping.